Yttermalungs Camping
Yttermalungs Camping is located in Yttermalung, a tiny village in the rural parts of Dalarna. There are 10 cabins all with own sanitair. The campsite has 10 spacious spots with electricity (max 16 ampere) for caravans or tents. Also two Glamping tents for rent during the summer. In the summer there is a heated swimming pool and in the winter an ice rink next to the campsite. Also many other activities for young and old, both in summer and winter.
Description
Yttermalungs Camping create a sustainable tourism concept with attention to the guests, nature, the environment and the village. Because the campsite work together with local companies and associations and support the local economy. The outdoor sports activities are offered in the vicinity.
 
You can hire MTB, canoet, SUP, sauna at the camping. Hiking in the woods, or fishing in the river. In the winter you can rent equipment for crosscountry skiing, snowshoewalking, ice skating and fatbiking! 
 
Of course there is a sanitary building with a washing-up corner, washing machine and a kitchen available for the camping guests. In the restaurant serves pancakes or paninies and the coffee is always ready. In summer, guests can order fresh bread rolls. Free WiFi is available in and around the reception.

There is a swimming pool, mini golf course, climbing wall, rope track, grill areas and a beach volleyball court. A wood-fired sauna is also available. In winter there is an ice rink and each cabin has a snow racer / sled on the veranda. The wood-fired sauna is located on a raft near the Wild Camp by the river.

There are two electricity poles available for charging cars, ask for prices at the reception.
The express bus stops in the village. Shops and other facilities can be found in Malung 15 km away.

You are very welcome at the reception for information and to book activities. Here is also an Info Point from Visit Dalarna.

Good to know
Physically disabled facilities
Pets allowed
Sauna
InfoPoint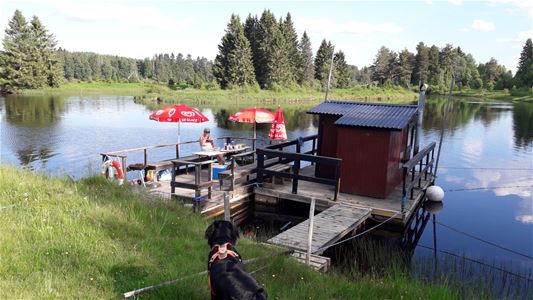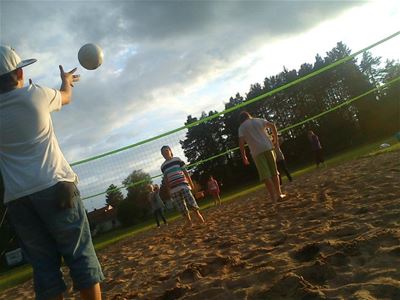 Reviews
<% summary.RecommendedYes %> of <% summary.Count %> recommends
---
Overall opinion
<% summary.Rating | roundRating %>/<% summary.RatingMax %>
<% score.Name %>
<% score.Rating | roundRating %>/<% score.RatingMax %>
---
<% review.Title %>
<% review.Body | truncate %>
<% review.ScoreList.Score.Rating %>/<% review.ScoreList.Score.RatingMax %>
Recommended by <% review.Signature %> anonymous Not recommended by <% review.Signature %> anonymous
"<% review.Body %>"
Created <% review.Completed | toLocaleDate %>
Shows <% reviewsToDisplay.length %> of <% reviews.length %>
---