Borlänge, Hostel
Welcome to our hostel! Here you can stay in pleasant apartments in a homely environment. Rent a room or your own apartment. Perfect for business trips, your holidays or for sports groups. You choose the level of service yourself. We serve a breakfast buffet every morning with organic produce or you can make your own breakfast in our well-equipped guest kitchen.
Description
A wide range of cultural and outdoors experiences are on offer right around the corner. We have Sweden's most exciting adventure swimming pool. Museums such as the Jusse Björling Museum, the Future Museum, the Geological Museum and the Museum of the Swedish Road Administration. The outdoors activities are unbeatable both in the summer and the winter, with Romme Alpine Ski Resort or Gyllbergen for cross country skiing in beautiful mountain countryside. Cycling around Lake Runn is a great experience or cross country ice skating on prepared trails. Enjoy some relaxation with a fishing rod on the magical Skommartjärn. Open all year round.

Apartment hostel with rooms with 1-5 beds, some with a TV. Parking with engine heating spaces. Pleasant common room with a TV.

Full or half board for groups on request.
Coffee shop and souvenirs and internet café.
Tennis table room and a limited cycle, ski and cross country skating equipment hire.
Close to Kupolen Shopping Centre, the Higher Education College and sports/athletics arena.

Facts
Physically disabled facilities
Pets allowed
Wifi
Bedlinen for rent
Breakfast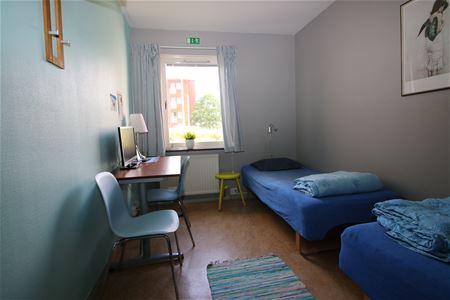 Recensioner
<% summary.RecommendedYes %> av <% summary.Count %> recommends
---
Overall opinion
<% summary.Rating | roundRating %>/<% summary.RatingMax %>
<% score.Name %>
<% score.Rating | roundRating %>/<% score.RatingMax %>
---
<% review.Title %>
<% review.Body | truncate %>
<% review.ScoreList.Score.Rating %>/<% review.ScoreList.Score.RatingMax %>
Recommended by <% review.Signature %> anonymous Not recommended by <% review.Signature %> anonymous
"<% review.Body %>"
Created <% review.Completed | toLocaleDate %>
Shows <% reviewsToDisplay.length %> of <% reviews.length %>
---